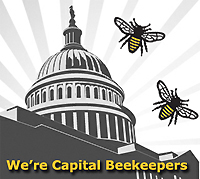 Join the DC Beekeepers Alliance (or renew!)

The DC Beekeepers Alliance is the local beekeeping association of Washington, DC.

We are a 501(c)3 nonprofit, operating under the Center for Urban Bee Research, Federal ID No. 46-4303333.

Membership runs annually from January 1 through December 31, and begins at the date you joined that year. Membership payments received after November 1 will be credited to the following year. If this is a membership renewal, please note that in the comments field when you check out (and a special thank you!)

Members are required to comply with all DCBA policies, with special attention to conduct and content: http://www.dcbeekeepers.org/dcba-participation-policy

Membership includes these privileges:

One free oxalic acid vaporization of up to four managed honey bee colonies located within the District of Columbia per year;
Preferred access (before the non-member waiting list or the public) to course offerings, including our popular Beginner's Course;
Free loans of club harvesting and other specialty equipment (4 days max.); and
Inclusion in group buys (and discounts) for equipment and jars.

We anticipate additional benefits as we grow.

Our payment process is managed by PayPal: You will have the option to choose a credit card or e-check when you check out, as well. Checks can be mailed to DC Beekeepers Alliance, 318 12 St NE, Washington, DC 20002. Please include member name and contact info with memberships paid by check.